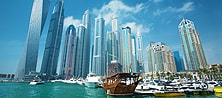 Dubai
Dubai, lovingly known as The Sandpit, is a city full of extravagance and opulence. A visit here is likely to keep you in a constant state of awe make your way to the top of the Burj Khalifa, one of the tallest buildings in the world standing at 830m tall, have a drink (or if youre lucky, stay) at the 7 star Burj Al Arab, an iconic building in Dubai skyline take a stroll down the stylish boardwalks of Palm Jumeirah, the man made sand island designed in the shape of a palm or why not enjoy an underwater dining experience Ossiano in the Atlantic hotel. The huge range of activities and landmarks mean that Dubai is a perfect destination to both start/end a cruise or to visit during a cruise.
Questions? Contact
Cruises-N-More today!
We are happy to provide a toll free phone number into our office from locations within the USA and Canada. Additionally, we have toll free numbers for the convenience of those residents of Australia and the United Kingdom.
USA + Canada

Speak to a travel Specialist

800.733.2048

(toll free)

Fax: 407.771.0077

Australia

Speak to a travel Specialist

800.076.002

(toll free)

Fax: 407.771.0077

United Kingdom

Speak to a travel Specialist

0.808.189.1292

(toll free)

Fax: 407.771.0077