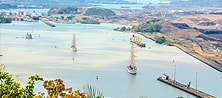 Panama Canal
Slice through Central America via the most famous canal in the world. With more than 900 species of birds, 10,000 species of plants, 1,350 plants and animals indigenous to the country and more species of mammals and amphibians than any other Central American country, Panama has one of the richest tropical environments on earth. Follow the footsteps of the conquistadors and immerse yourself in Panama''s rich ecological and cultural diversity.

Questions? Contact
Cruises-N-More today!
We are happy to provide a toll free phone number into our office from locations within the USA and Canada. Additionally, we have toll free numbers for the convenience of those residents of Australia and the United Kingdom.
USA + Canada

Speak to a travel Specialist

800.733.2048

(toll free)

Fax: 407.771.0077

Australia

Speak to a travel Specialist

800.076.002

(toll free)

Fax: 407.771.0077

United Kingdom

Speak to a travel Specialist

0.808.189.1292

(toll free)

Fax: 407.771.0077