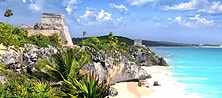 Mexico
Mexico offers some of the world''s best sunsets, warmest weather, and most exciting activities. You''ll experience the island paradise that many of the popular Mexican ports of call offer. But you''ll also feel the quaint, warmth of small towns and vibrant history and culture.

With such destinations as the "happening" Cabo San Lucas, the culture and vast beaches of Mazatlan, the "Cinderella of the Pacific" Ensenada, the meca that is Puerto Vallarta, Acapulco, and more, you can be sure your cruise vacation won''t just leave you with a sombrero and a hangover... but memories forever and the desire to go back!

Questions? Contact
Cruises-N-More today!
We are happy to provide a toll free phone number into our office from locations within the USA and Canada. Additionally, we have toll free numbers for the convenience of those residents of Australia and the United Kingdom.
USA + Canada

Speak to a travel Specialist

800.733.2048

(toll free)

Fax: 407.771.0077

Australia

Speak to a travel Specialist

800.076.002

(toll free)

Fax: 407.771.0077

United Kingdom

Speak to a travel Specialist

0.808.189.1292

(toll free)

Fax: 407.771.0077