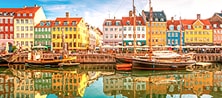 Europe - Northern
Destination
Europe - Northern
Interested in viewing many different cultures? Love to cruise? Cruising Northern Europe may be perfect for you. Most Northern European cruises can show you the Scandinavian peninsula, Baltic states, and the Netherlands on a seven to fifteen day cruise. You'll tour historic sights and see beautiful landscapes. And since you're cruising, you'll enjoy unlimited first-rate cuisine and you'll have a range of activities available to you while you're not exploring the sights. Cruises in Northern Europe often depart from Copenhagen, Stockholm, Amsterdam, or London. Ships sailing to this destination also make time to see Helsinki, Finland; Tallinn, Estonia; and Oslo, Norway.
Questions? Contact
Cruises-N-More today!
We are happy to provide a toll free phone number into our office from locations within the USA and Canada. Additionally, we have toll free numbers for the convenience of those residents of Australia and the United Kingdom.
USA + Canada

Speak to a travel Specialist

800.733.2048

(toll free)

Fax: 407.771.0077

Australia

Speak to a travel Specialist

800.076.002

(toll free)

Fax: 407.771.0077

United Kingdom

Speak to a travel Specialist

0.808.189.1292

(toll free)

Fax: 407.771.0077